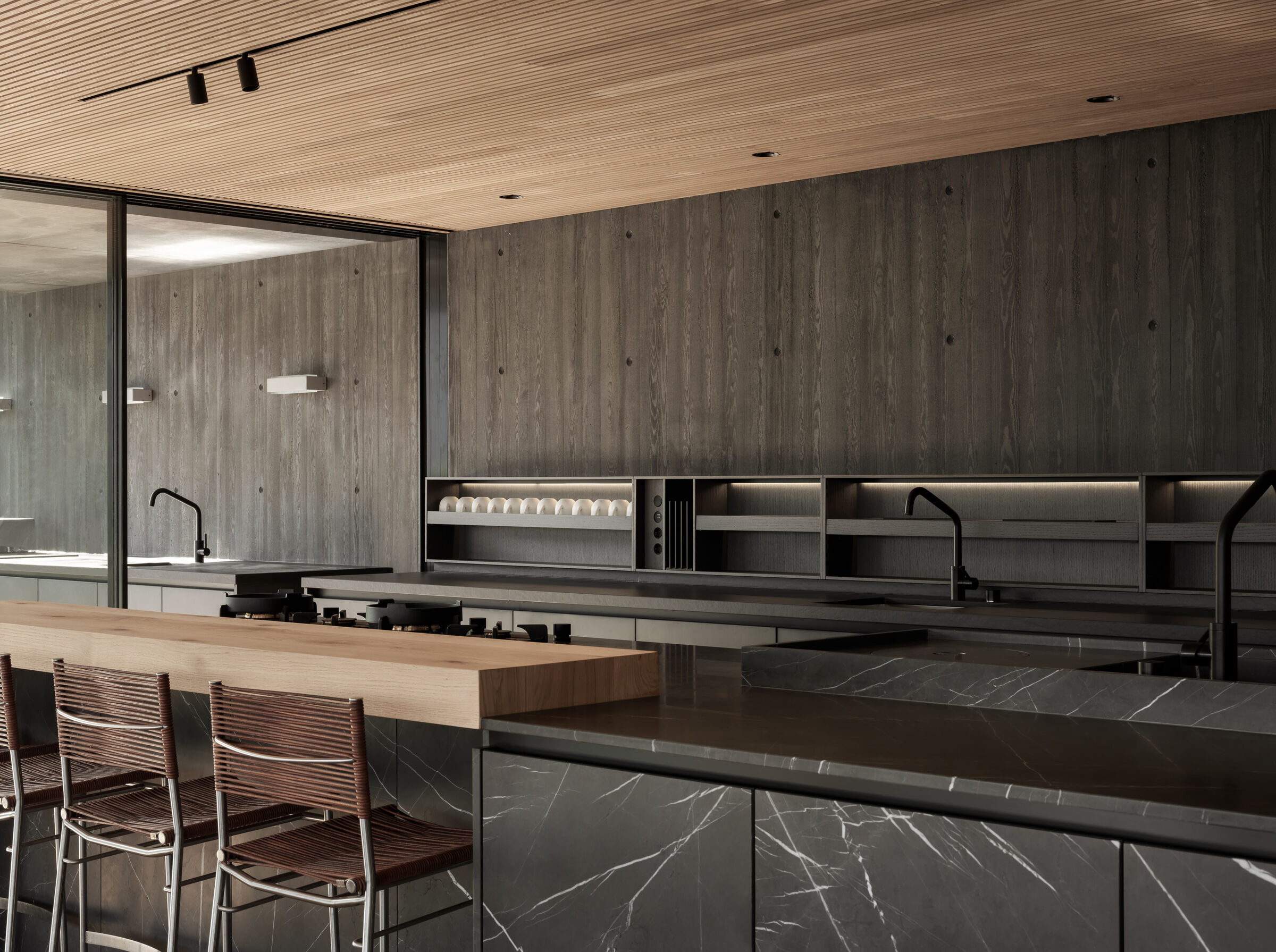 Paulsen & Nilsen-Villa, Oslo
파울슨 앤 닐센
Villa, Oslo is a minimal residence located in Oslo, Norway, designed by Paulsen & Nilsen. This is a 4-story, split level house. The concrete slabs have a unique tapered edge detail which gives the house a slender profile. Expansive glazing maximizes the panoramic views and frames the sculptural pine trees that dot the nearby landscape. These pines are a reminder of the cool exterior climate, belied by the warmth created by the interior color palette and choice of materials. Truly timeless materials of solid European oak floorboards, timber battened ceilings and patina'd metal. Not a single white plasterboard surface can be found in this home with mineral chalk paint softening harder surfaces of concrete and steel. The steel staircase is a rising through the heart of the building was made by the talented Italian artisan Umberto D'aquino – it was a joy to see it lifted into the space.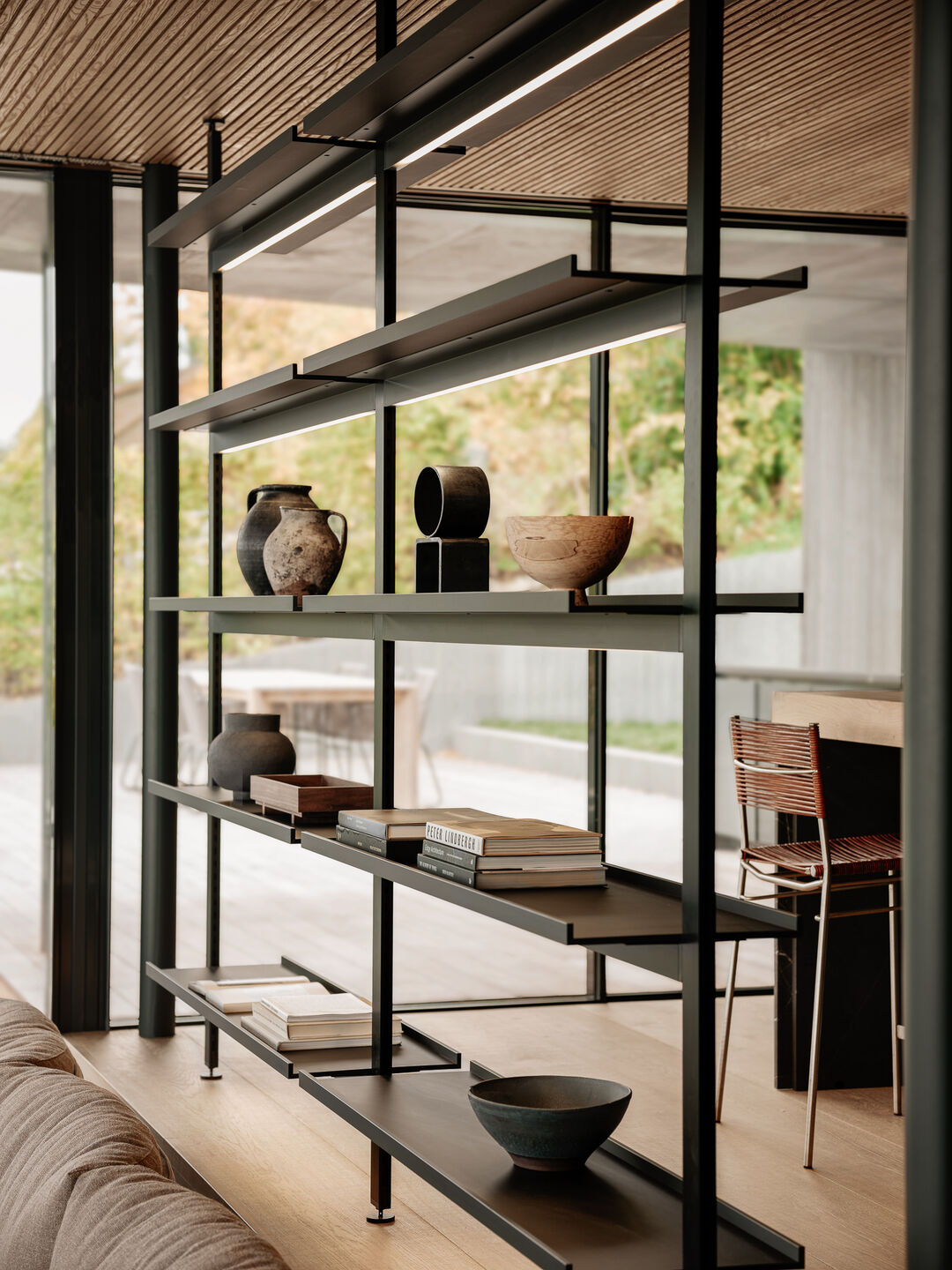 Paulsen & Nilsen가 설계한 빌라 오슬로는 노르웨이 오슬로에 위치한 미니멀 하우스 입니다. 건물의 규모는 4개층으로 이루어져 있으며, 스플릿 구조로 연결되어 있습니다. 이러한 특징은 날렵한 형상으로 구현된 콘크리트 슬래브를 통해 적극적으로 표현됩니다. 각층 콘크리트 슬래브 사이, 공간을 구획하는 전창은 내외부 관계를 연결하는 동시에 외부 조망을 제공하는 역활을 수행합니다.
The soft leather of the treads is a wonderful contrast to the hard steel structure, providing a satisfying cushion underfoot when climbing the levels. This stair is an artwork in itself, sitting next to a large woven piece by Australian artists Crossing Threads. Commissioned to hang in the entry, the natural landscape surrounding the site is echoed in the woven textural surface of this beautiful heavy artwork. The level changes follow the natural slope of the site, which allows access to a variety of outdoor spaces at many different points and all sides of the house. The outdoors is brought in when the large, glazed doors are pulled back and the interior spaces double in size with seamless transition in the floor from inside to out.

The slab edges extend out beyond the recessed glazing line, contributing further to the sense of the inclusion of the outdoors in the interior space. Working with a large team of consultants and specialists, P&N have managed to conceal all technical installations and create a number of bespoke solutions. There are four fireplaces in the house, all of which are specially designed for the room in which they are placed. Furthermore, the design achieves an excellent acoustic environment despite the myriad of hard surfaces. It is these unseen efforts which contributes greatly to the sense of harmony as you move through the spaces. 1:1 mock-ups and material tests have been an important part of the design process.

Photography by Einar Aslaksen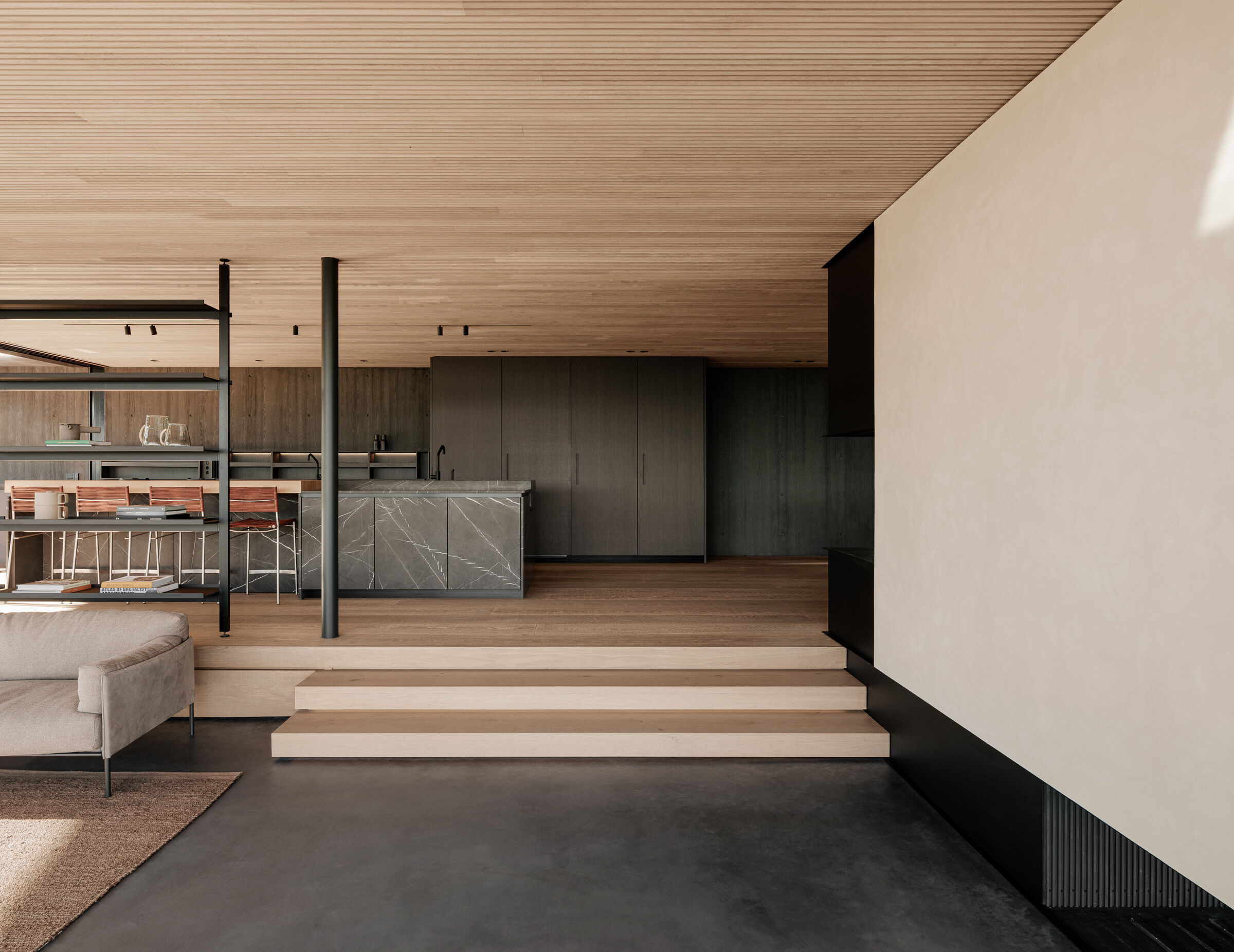 from leibal